Requirements to Become a Language Assistant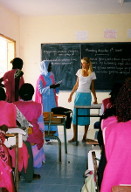 The British Council supports educators around the world to help the quality of schools and improve young people's lives. For these reasons, the British Council provides the opportunity for becoming a language assistant abroad. This is a great opportunity to build your professional career as a teacher and educator.
The requirements to become a English Language Assistant abroad through the British Council are as follows:
You must be able to commit to the full period of time that your appointment abroad will last. Depending on the country, the program length can vary drastically. It is best if you choose a location best suited for your goals and your future.
You must apply and eventually obtain a ICPC (International Child Protection Certificate). This certificate is a type of criminal record check for UK nationals whom are interested in working with children overseas in other countries. This can be a lengthy process so it is important to get started as soon as you can. Once your ICPC is received by the British Council it will be checked. It is important not to start the ICPC process until the British Council informs you to do so.
You must not have lived within the country where you are applying at all during the last year. It must be a new experience and a new country where you will live in and teach. It is important to stay flexible in regards to locations. Language Assistant positions are in high demand, and you must be willing to take what you are offered.
Education Requirements
According to the British Council, you must have successfully completed two years of University studies by your appointment date abroad. It is important to contact the British Council if you have any questions in regards to accepted years of study. You must have completed your secondary education within the UK/Scotland. If you completed your secondary education abroad, you must have a valid UK passport. If you do not hold a UK passport you are unfortunately not eligible to participate in the language assistant program.
The final requirement is that you must be a current native level English speaker. The British Council will assess your current English skills through your written application, references, and your secondary and university education backgrounds. You may also participate in a telephone or face to face interview.
All of these requirements are necessary in order to become a Language Assistant through the British Council. Once you successfully complete all of the listed requirements your application is sent to a partner agency within your desired countries whom will review and contact you regarding open positions. The British Council currently places 2,500 Language Assistants each year in 14 countries.